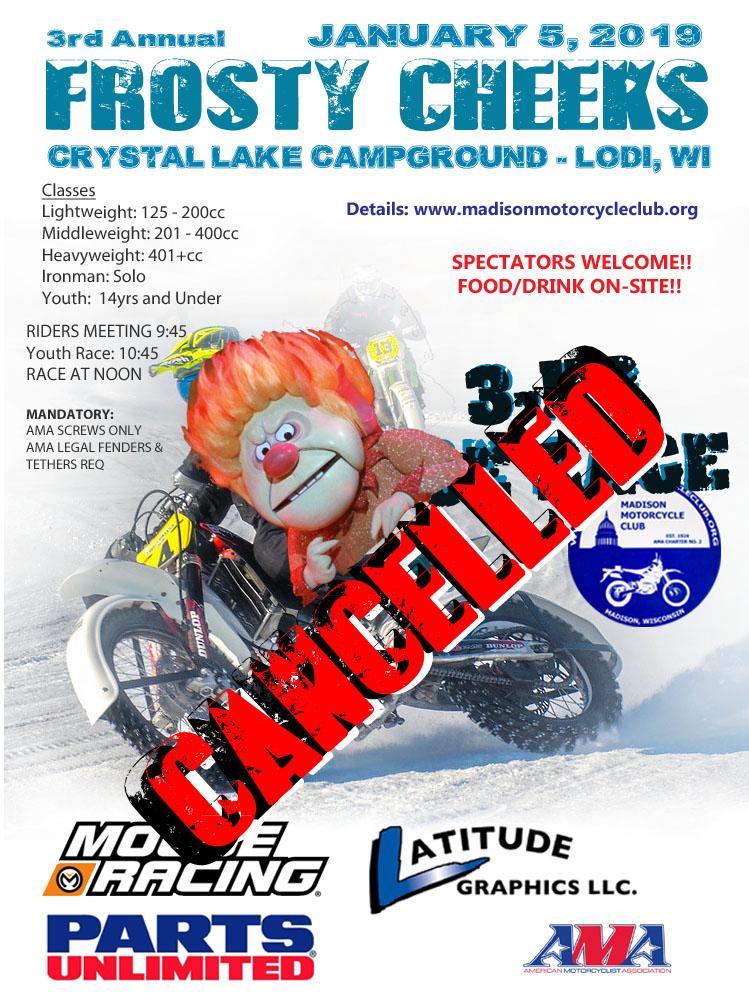 ****FROSTY CHEEKS 2019 IS CANCELLED****
Due to ice conditons in this warm December and January, we will not be holding the race this year.  Thanks for your interest and we will see you next year!
Update!!!  We've added a Kids Race (14-under) that will begin at 10:45am and runs a portion of the main course before the main event.
3-Hour Motorcycle Ice Race – January 5, 2019




GP STYLE COURSE between  4 & 6 miles long.


SPECTATOR FRIENDLY!


BAR/RESTAURANT ON SITE!


Crystal Lake Campground – Lodi, WI
 This is a charity event.  
$

100 entry fee per bike

– may be ridden solo or by a team of up to 4 riders. 

ALL riders on a team must be AMA members, and all must register and sign releases.

  Bring your ENTIRE team to registration!!!

$35 entry fee Youth Rac

e – Youth Race (14-and-under) participation is a solo rider race.  All Youth riders must be AMA members, be registered and have parental waiver forms signed (see below).
ALL RIDERS: PLEASE PRINT & COMPLETE THE ENTRY FORMS AND BRING THEM WITH YOU – that will save time for you and everyone else.  ALL RIDERS still need to go to registration table to sign the release.

This is an AMA sanctioned race.
AMA membership is required to race.


AMA join will be available at sign-up if needed.


AMA screws only.

No cut tires. No Canadian-style screws.


AMA fender rules enforced.

Fenders must remain in place entire race.


AMA tethered kill switch rule enforced.

  A limited number of tether switches will be available for purchase at the race site.
2-wheel Motorcycles only.  This race is not open to sidecars, trikes, 4-wheelers, ATVs, UTVs, etc.
If we consider a bike to be too loud, it will be asked to be muffled. We cannot risk losing this fine location!
AMA Minor Release Form
Riders under 18 years old MUST have a release signed by BOTH parents at registration. If both parents cannot attend, release form can be printed out ahead of time, then bring signed and notarized form to registration. Absolutely no exceptions to these rules!
See Frosty Cheeks Rules for age restrictions.  We encourage printing the form and filling prior to entry to expedite registration!!!
RACE INFO call:  608-438-5430
Final decision on ice safety will be made on Thurs. Jan. 3.
Race Day Schedule:
7:30-9:30am       Sign-Up
8:00-10:15           Tech Inspection
9:45-10:00am     Riders' Meeting (MUST ATTEND)
10:00-11:00am    Practice Lap (one lap per team)
10:45                      Youth Race (14-and-Under) Approximately 1 hour.
12:00-3:00pm     EVENT RACE!
3:30-close             Awards Ceremony in Lower Bar at Crystal Lake Campground