Madison Motorcycle Club
Riding & Racing Since 1924 – AMA Charter #2

ROAD ~ OFF-ROAD ~ DUAL SPORT.   The Madison Motorcycle Club does not distinguish itself as an on-road or off-road club. We are one club devoted to the promotion of any combination of motorcycling. The MMC is affiliated with the American Motorcycle Association (AMA), a national organization designed to promote safety and public awareness of motorcycling both as a sport and as a means of transportation. We are AMA member club Charter #2, founded in 1924. Our club has members of all ages, both genders, many different occupations, and from several localities, but we all have one thing in common: our enjoyment of motorcycling!
Our season starts with the annual New Years Day Ride on January 1. Throughout any given year we might have road rides, an ice race, off-road races, and a dual-sport ride. Club members also get together for impromptu rides, longer excursions (Moab, Barstow-to-Vegas, Colorado, early spring trail "tune-up" ride in Tennessee or Missouri, etc.) or group up to ride other events or races. We also have a club banquet in the winter and a club picnic in the summer.
If you think you might be interested in joining the club, feel free to just drop by a meeting or event and check us out!
LATEST ISSUE OF CYCLE USA IS HERE!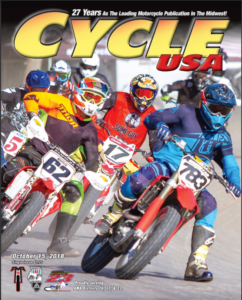 ___________
MMC Event Schedule – 2018
October 27, 2018 – Bucky Dual Sport – Cross Plains, WI (SOLD OUT) – INFO

MMC Event Schedule – 2019
Jan 1, 2019 – New Year's Day Road Poker Run – Madison, WI
Jan 5, 2019 – Frosty Cheeks 3-Hour Ice Endurance Race – Crystal Lake – Lodi, WI
TBA, February 2019 – MMC club banquet (members only)
TBA, 2019 – Hare Scramble
TBA, 2019 – MMC club picnic/ride  (members only)
TBA, October 2019 – Bucky Dual Sport
____________
Next MMC Club Meeting:
NOTE: DUE TO THANKSGIVING OUR MEETING IS MOVED:




Wed. November 14, 2018 at 7pm. @
PAUL'S NEIGHBORHOOD BAR, 2401 Parmenter St, Middleton, WI
Meetings are USUALLY held in the back conference room at
on the 3rd Wednesday of each month.
Feel free to attend a meeting and check us out!
Alt-n-Bach's Town Tap
2602 Whelan Lane, Madison
Todd Drive exit off the beltline, next to Ashley Furniture
______________
 
John Vincent Troia


1950-2017
Madison Motorcycle Club
Wisconsin Dual Sport Riders


Ride on, John. See you at the final registration table!
President: Dale 'Crowbait' Kelter  Contact
Vice President: 'Speedy Pete' Laubmeier
Secretary:  Chris "Sideshow" Mulhall  Contact
Treasurer: Ryan Goth
Referee: Frank Caballero